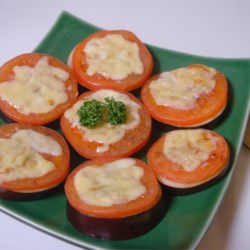 i've recently been in an eggplant mood and i just can't seem to get enough of it. so when i came across this
eggplant tomato bake
, i was really excited.
this recipe is a new staple for my diet- it's really easy and requires only three ingredients.
[ingredients]
1 eggplant, sliced into 1/2" rounds
1 tomato, sliced
1/4 cup grated fat-free parmesan cheese
[steps]
preheat oven to 400 degrees F
spray a cookie sheet with cooking spray; arrange eggplant rounds on the cookie sheet and sprinkle with parmesan.
layer one slice of a tomato on top of each eggplant round.
sprinkle with parmesan cheese.
bake for 10 to 15 minutes.
this recipe serves 4 and is a healthy option with only 55 calories per serving with 0.3 grams of total fat. i love to serve this for an italian dinner at home, with a side of parmesan asparagus.
happy eating,
kels