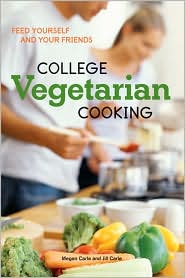 while it's titled "college vegetarian cooking", i think this cookbook is perfect for just about anybody. it initially piqued my interest because it was labeled as a cookbook for vegetarians. however, what made me love it most was that it provided cheap, inexpensive and quick recipes that any vegetarian can come to love.
i think everyone has days where they just want something low-key and delicious. as a vegetarian, it's hard to find those options. if you want quick, you have to go with a salad. anything else, and it's pretty much you spend half an hour or more. i could stick with mac and cheese from a box, but i like to make everything fresh. the fresher the ingredients, the fewer the preservatives and other unhealthy additions. i eat it the way nature made it.
back to this cookbook, though. the recipes in this book range from simple recipes from your childhood, to unique dishes like pasta with broccoli and caramelized onions (yum!). this book also has many recipes influenced by both asian and indian dishes. two recipes which i can't wait to make are vegetable kung pao and spicy potato samosas.
the skinny vegetarian rating: B+
pros: many simple dishes that require little time to cook and few ingredients.
cons: the way the cookbook is divided is confusing; there is not the traditional "appetizer", "salad", "slow-cooker", etc. this cookbook divides the recipes by "cheap eats", "basics", etc.