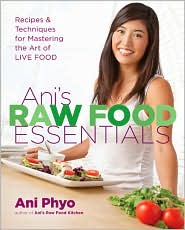 i was looking at cookbooks yesterday at the bookstore, and i found this one. ani phylo is a raw food chef, which means that she only works with raw foods and vegetables. i've always been interested in cooking rawist, as your meals provide your with even more nutrients than you will normally have when you cook your food.
the recipes found in this cookbook all look really delicious. she has recipes for a whole variety of food types- breakfast, lunch, dinner, smoothies, desserts. in addition, she breaks her book down and even lists essential tools and ingredients to raw eating. this is perfect for someone who has always wanted to try raw eating, but has never attempted it before.
all in all, i really think this is a wonderful book. the recipes require no cooking, which means it's an ideal book for a busy vegetarian. while i did not purchase it yesterday, i am definitely going to pick it up next time i go to the bookstore.
if you're interested in looking at this book, you can find it at
barnes and noble
.